Join Us on Saturday February 15, 2014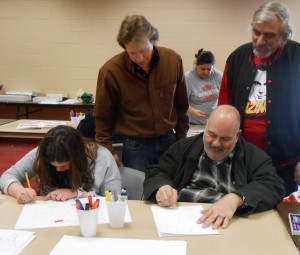 Windmill Center participants are hard at work creating their art work for the upcoming Windmill Alliance art show. The show will be held at the Windmill Center 141 Broadway, Bayonne NJ. The entrance fee is $5.00. Come support a good cause, as well as enjoy the complementary wine & cheese that will be served during the event. The show will run from 12-4 PM on Saturday February 15, 2014. Our complements to Jim and Jill Pustorino, our Windmill Alliance Volunteer Artists, who instruct weekly at the Center.
For more information call 201-858-8706.
Sample Art work: